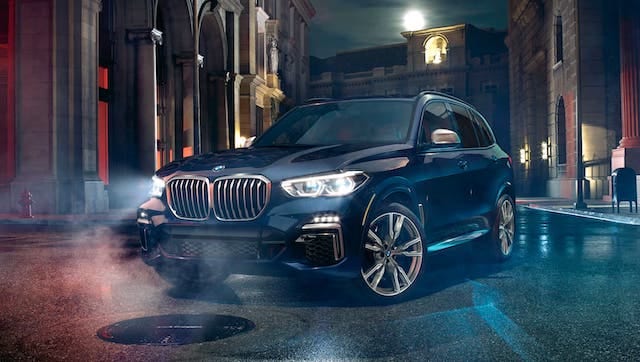 The BMW X5 is an incredible expression of power and sophistication, with a spacious interior that offers remarkable luxury for you and your passengers. If you are looking for a sports activity vehicle (SAV), then the X5 is a truly fantastic choice with several different trims for you to choose from. No matter what you are looking for in a large and powerful vehicle, the current X5 delivers in a way that few other models out there can. And it takes only a few minutes of driving it to fully appreciate everything that BMW's designers and engineers have put into this remarkable vehicle.
Here at BMW of Cincinnati North, we are proud to offer the full modern lineup of amazing BMW vehicles, including the X5. Our friendly and knowledgeable salespeople are here to work closely with you and help you find the perfect vehicle for your needs, answering all of your questions and ensuring you drive away in just the right model. With our certified service center and factory parts department, you never have to worry about where to turn or who to call for help - we will be here to provide service and support for many years to come. Visit us at BMW of Cincinnati North in Cincinnati, OH, and discover what you have been missing in the ultimate driving machine.
The BMW X5
At its heart, the BMW X5 is a midsize SAV that provides plenty of interior space and amazing overall performance for you and your passengers. As a BMW, it is as luxurious and sophisticated inside and out as you would expect, and there are several different trims available so you can get the features you want and all the power you need. The power liftgate is easy to use and gives you access to a tremendous amount of storage in the rear of the vehicle, so you can load up with everything you need to take with you and get on the road quickly.
The X5 has seating for up to five people thanks to the second row of seats and comes with rear-wheel drive standard, though there are multiple all-wheel drive trims available. With a bold exterior style and powerful performance, the X5 truly places you in command on the road, so you can conquer whatever your path throws at you. All of the power in the X5 also gives it a surprisingly high towing capacity, so if you have a camper or a boat that you need to take with you, it should be able to get the job done. Whatever you are looking for in an SAV, the X5 has you covered.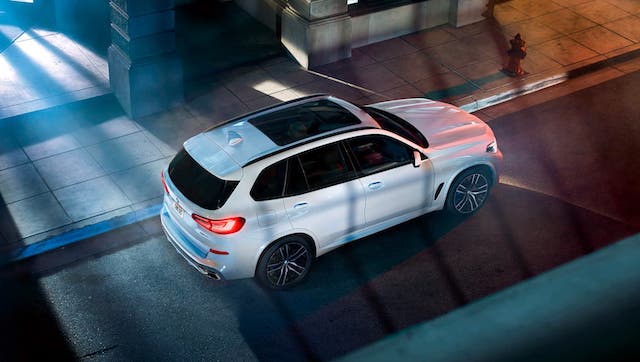 What is a Sports Activity Vehicle?
Although the term "sports utility vehicle" is more commonly used, the BMW X5 is a sports activity vehicle, because it is designed to handle so much more than a standard SUV. For one thing, it emphasizes performance and power that you do not find in a lot of other SUVs out there, even those designed on a truck platform. This makes it able to handle a wide range of tasks and activities, whether you need to get to work every day or want to hit the road for a long trip.
As an SAV, the X5 is larger and more powerful than some other BMW models that are labeled as a "sports activity coupe" or SAC. A SAC model from BMW is typically on the smaller side, offering an experience a bit closer to what you would get from a two-door coupe and generally recognizable by their sloping roofs. Deciding on whether a SAC or SAV model is right for you can be tricky, and really depends on what you need and other factors that you are looking for. That is why we are here to work with you and help you determine which model from BMW is right for you and meets all of your needs.
2020 BMW X5 Trim Levels
There are four trims available for the 2020 BMW X5. Your choice is dependent on how much power and overall performance you are looking for in your vehicle. Since the transmission and some other mechanical systems change based on the trim you choose, this is a very important decision to make before buying an X5. Finding the right model will have a significant impact on your driving experience for years to come, which is why we are dedicated to working closely with our customers to help you find the perfect one.
The four 2020 BMW X5 trims are:
X5 sDrive40i - The standard 2020 BMW X5 features a 3.0L TwinPower Turbo I-6 engine that provides up to 335 hp and up to 330 lb-ft of torque, with an 8-speed automatic transmission. It has 19-inch all-season run-flat tires and up to 72.3 cu.ft. of interior cargo capacity. The sDrive40i comes with 16-way power front seats, a 10-speaker HiFi sound system, and 12-inch displays for Infotainment and driver information.
X5 xDrive40i - If you choose the xDrive40i, you get the same engine as the standard model, but with intelligent all-wheel drive instead of the standard rear-wheel drive. Otherwise, the features are very similar, including the same tires, interior cargo space, and details throughout. Your choice here is really between either RWD or intelligent AWD. If you tend to drive in rough terrain or poor weather, then the all-wheel drive can be a great choice that keeps you safely on the road.
X5 xDrive50i - The xDrive50i, on the other hand, is a far more powerful vehicle that comes with a 4.4L BMW TwinPower Turbo V8 engine that provides you with up to 456 hp and up to 479 lb-ft of torque. It also has an 8-speed automatic transmission but features Vernasca leather upholstery and fantastic details throughout the interior. The xDrive50i features a 16-speaker Harman Kardon Surround sound system and automatic four-zone climate control.
X5 M50i - Finally, the M50i is the ultimate expression of the BMW X5, with the 4.4L V8 engine tuned to deliver up to 523 hp and up to 553 lb-ft of torque. This model comes with 20-inch all-season run-flat tires and is an absolute thrill to drive. The M50i features 20-way power multi-contour front seats, three-stage heated front seats, and a wireless charging pad. It also has amazing safety features to protect you and your loved ones, including adaptive LED headlights, front and rear parking distance control, and a frontal collision warning with city collision mitigation.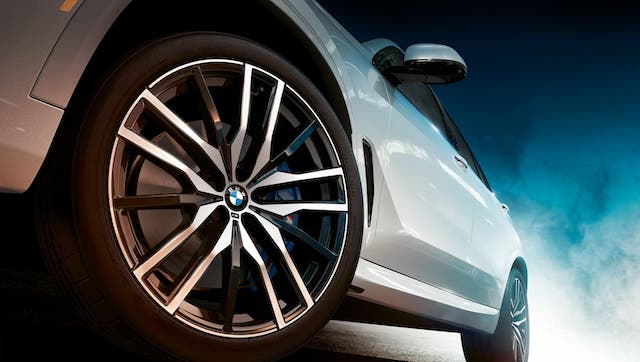 BMW of Cincinnati North is Here for You
Whether you are explicitly interested in the BMW X5, or you are not quite sure which model is right for you, we are here to help. Our experienced salespeople are always ready to answer all of your questions and provide you with any information you want about the amazing, modern BMW lineup. And with our certified service center and parts department here in Cincinnati, we will make sure you stay safe on the road, with the fantastic feel of a BMW under your control, for many years to come.
With a massive selection of sedans, coupes, and both sports activity vehicles and sports activity coupes, we are ready to show you the next ride of your dreams. Call or visit us at BMW of Cincinnati North today, and we will make sure you drive away in the perfect vehicle.