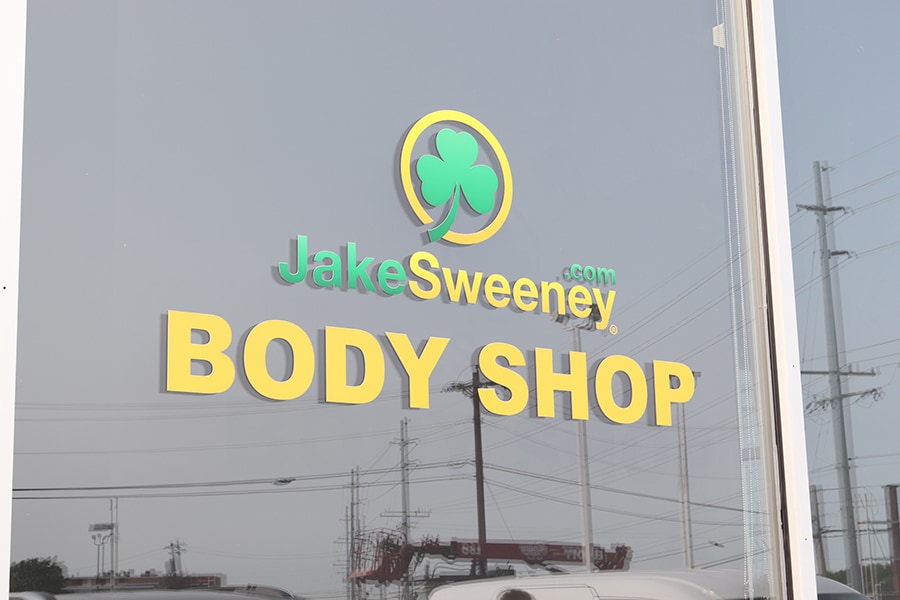 Jake Sweeney Auto Body Shop & Collision Center
1280 East Kemper
Cincinnati, OH 45246
513-782-2899

Hours:
Monday - Friday 8:00am to 5:30pm 
BMW Auto Spa
105 West Kemper Rd.
Cincinnati, OH 45246




---
JAKE SWEENEY AUTO BODY SHOP & COLLISION CENTE

R
You deserve to enjoy every moment behind your BMW - even after a major collision. Jake Sweeney Body Shop & Collision Center helps get your vehicle back on the road and give you the peace of mind you've been looking for a collision center.
✔  We service all makes & models
✔  Free Estimates
✔  State-of-the-art facility
✔  Highly experienced staff
✔  All insurance companies accepted
✔  Rental vehicles available

WE ARE A CERTIFIED COLLISION REPAIR CENTER
Feel confident that you've made the right choice in selecting our Auto Body Shop & Collision center.* There is no equal when it comes to restoring your BMW to its original specifications than a BMW Certified Collision Repair Center, and we are the only one located in Southern Ohio between Louisville, KY and Dayton, OH.
 The Certified Difference:

✔  Original BMW Parts
✔  BMW Trained Technicians
✔  State-of-the-art equipment

✔  BMW Approved Repair Procedures
✔  Certified Results

We will restore the structural integrity and safety features of your BMW. You will receive a BMW Certificate of Repair that is specific to your vehicle as well as a two-year unlimited mileage limited warranty** that comes with all original BMW parts.

  BMW Accident Assistance:
Thanks to BMW ConnectedDrive Services, help is just a click away. In the case of a non-severe accident, push the SOS button or call BMW Assist™ at
1-888-333-6118
. A response Specialist will help you locate and/or provide free towing for your vehicle to the nearest BMW Certified Collision Repair Center or BMW Center of your choice, within a 50-mile radius.***
---
BMW AUTO SPA
Remember how great you felt about your BMW the day you drove it home? We can bring back that "just drove off the lot" feeling again. 
Take advantage of our dynamic detail package:

✔  Check interior glass
✔  Clean & dress instrument panel and console
✔  Vacuum interior and trunk

✔  Clean & condition leather and vinyl upholstery
✔  Shampoo Interior carpets and floor mats


✔  Clean engine compartment
✔  Hand wash exterior
✔  Bug & tar removal
✔  Clean hood and trunk gutters


✔  Clean door jambs
✔  Clean wheel wells and dress tires
✔  Hand wax
✔  Buff exterior
  Additional Beautification Service Available:

Head lamp reconditioning: Our headlamp reconditioning will return your headlamps to their original luster and clarity that was taken away by road rash, salt, sand, and gravel.

ADDITIONAL SERVICES & ACCESSORIES
So far, your BMW had been perfect. Why stop now? 
Genuine BMW Parts and Accessories deliver the fit, reliability and performance you want. They also are covered by your factory warranty, giving you peace of mind to go along with great looks. 
Does your BMW vehicle deserve anything less? 
Genuine BMW Parts and Accessories will enhance the experience of owning your BMW. a visit to the Parts and Accessories Department is well worth it. 
Perhaps there is a particular accessory that will make your BMW vehicle more personalized. 
How about a gift for that special BMW owner in your life? 
All of the products in our Parts and Accessories Department are of the finest quality, just as BMW owners have come to expect. 
So, why not stop by today?
  Available Services & Accessories

✔  Roof Carriers
✔  Air Brush Touch-up System
✔  Tonneau Covers
✔  Bug Guards
✔  Spoilers

✔  Paintless Dent Repair
✔  Assist Steps
✔  Truck Bed Liners
✔  Splash Guards
✔  Vent Shades

UNLEASH THE EXTREME WITH SHAMROCK CUSTOMS
Shamrock Customs is a division of Jake Sweeney specializing in all after-market accessories and vehicle customization.
Some of our services include, but are not limited to:
✔  Window tinting, clear bra
✔  Vinyl wrapping and striping
✔  Spray-in bed liners
✔  Ceramic coating paint correction
✔  Full vehicle detailing
✔  Interior leather, vinyl, suede re-conditioning and repair
✔  Remote starts and back-up cameras
✔  Heated seating
✔  Custom wheels and tires (all major brands)
✔  Custom lifts and lowering kits for all makes and models
✔  Performance and exhaust accessories
✔  Custom lighting
✔  Off-road accessories and installation
Schedule your extreme customization appointment today! Call 513-782-2826

*Estimates may not be fully covered by your insurance. Check your insurance coverage limits.
**All work is carried out by BMW Trained Technicians using Original BMW Parts, which come with a two-year unlimited mileage limited warranty. Warranty repairs do not constitute an extension of the original limited warranty period for the vehicle or a part thereof.
**
*BMW Roadside Assistance applies to new and Certified Pre-Owned vehicles covered under the manufacturer's express warranty. If your vehicle should break down while covered under warranty or require towing after an accident or collision, it will be transported to the nearest authorized BMW Center. You may also elect to have your BMW towed to the BMW Center of your choice, provided that the Center is within a 50-mile radius of the closest Center.