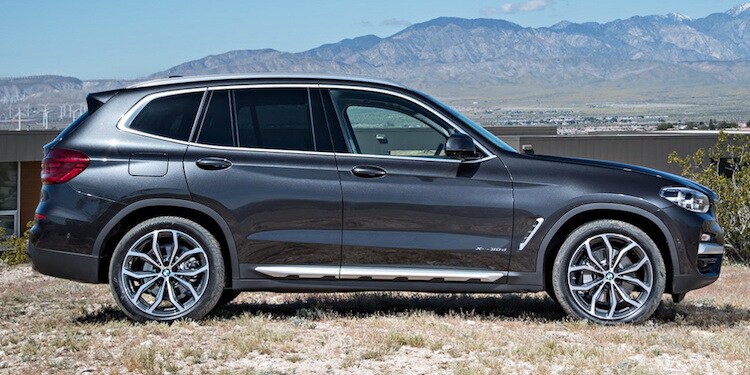 The car-buying process can be grueling, but it can be made a bit easier if you have a bit of clarity before you begin your pursuit. Well, if you're in the market for a luxury car, you should consider opting for the BMW X3. The vehicle provides many of the amenities you'd want in a new vehicle, making it a logical target. Meanwhile, if you're looking for a place to make that purchase, then BMW of Cincinnati is the perfect choice. Ultimately, the dealership and the nameplate are a perfect pairing, and this knowledge should make your car pursuit a whole lot easier…
BMW X3 
If you're in the market for one of the most impressive luxury vehicles in the industry, then you'd be hard-pressed to find a better offering than the BMW X3. After all, the nameplate provides all of the amenities that you could possibly be seeking from a new ride: optimal performance, a posh interior, and an array of technological features. Ultimately, if you're looking to drive around town in style, you should seriously consider opting for the incredible BMW X3.
Performance 
Naturally, when you pursue a BMW, we assume you're expecting a whole lot of power from the accompanying engine. Well, the brand has seemingly exceeded your expectations, as they provide customers with the ability to choose from a pair of worthwhile engine options. The 30i is the smaller option, but that doesn't mean it still doesn't deliver a whole lot of power. Rather, the 2.0-liter four-cylinder TwinPower Turbo Engine still manages to crank out an impressive 248 horsepower and 258 pound-feet of torque, which should be more than enough muscle to keep up with your fellow drivers. Meanwhile, thanks to clever inclusions like High Precision Direct Injection and the Valvetronic technologies, drivers can also expect adequate fuel efficiency.
Meanwhile, the M40i engine takes those power specs to a whole new level. The 3.0-liter four-cylinder TwinPower Turbo engine manages to crank out an impressive 355 horsepower and 369 pound-feet of torque, leading to some of the most impressive performance specs in the class. If you were expecting a whole lot of speed from your new ride, then this just might be the perfect engine for you.
Interior
BMWs are generally known for their luxury and opulence, and there's no denying that the BMW X3 delivers in this regard. The interior is adorned with a number of high-quality materials, and the wood trims add an unmatched elegance that few brands can provide. 
However, despite the interior opulence, consumers will surely be most impressed by the vehicle's surprising amount of interior space. Ultimately, owners can unlock up to 62.7-cubic-feet of space, which should be more than enough room to fit any luggage or equipment that you'll need on your impending journey. Plus, thanks to the inclusion of the split fold-down rear seats, owners will recognize unmatched versatility and flexibility. In other words, you won't have any issues loading your cargo or fitting a combination of luggage and passengers.
Technology 
It is 2018, so it shouldn't be all that surprising that the BMW X3 is stocked with a number of notable technological features. The iDrive 6.0 is the main star of the interior, as the unit provides easy access to an array of notable applications. Specifically, drivers can listen to their favorite radio stations, access their preferred navigation application, or they can seamlessly connect their smartphone. Ultimately, you'd be hard-pressed to find a better driving companion.
The technology doesn't end there. The BMW X3 is also equipped with a number of notable safety functions, allowing drivers to avoid finding themselves in an accident altogether. The Active Protection system is specifically intended to reduce the chance of an accident, as the unit will alert the driver when a specific reaction is required. Meanwhile, the accompanying Driving and Parking Assistant will help reduce the chance of a fender bender, assuring that your new BMW maintains its unmatched style.
Why BMW of Cincinnati?
Well, that now that it's clear that the BMW X3 is the perfect target for you, it's time to shift your focus to the car-buying process. Well, if you live near the Cincinnati, Ohio area, we're sure you'll appreciate everything that BMW of Cincinnati has to offer. The dealership's vast inventory provides you with plenty of logical options, while the various services allow you to rely on the dealership before and after you've made your purchase. To top it all off, customers will never have to shift around their schedule in order to visit the business, thus maximizing convenience! If you're seeking the ideal buying experience, you shouldn't look any further than BMW of Cincinnati.
Inventory
While the BMW X3 is a perfectly logical target, BMW of Cincinnati certainly makes it more than easy to change your mind. After all, the dealership is currently stocked with a number of worthy options, and we certainly wouldn't blame you if you find yourself weighing your numerous options. Ultimately, the business is housing more the 250 new vehicles, meaning customers certainly won't be limited when it comes to choosing a new ride.
BMWs can certainly be pricey, but the dealership has also done an admirable job of providing their customers with a variety of pre-owned options as well. The business currently has more than 70 certified pre-owned vehicles sitting on their lot, as well as another 80 or so used options. If you're looking to save a bit of money on your new ride, then we'd suggest targeting one of these less expensive options.
Services
While customers will certainly be turning to BMW of Cincinnati for their car purchase, the relationship doesn't need to end when you complete your transaction. Rather, the dealership provides their customers with a range of additional services, meaning you can rely on the business before and after you've made your purchase.
The finance department is focused on finding a financial deal that works for both sides. If you've found that it's difficult to secure a payment plan that makes sense for both you and a dealership, you won't have to worry when you're shopping at BMW of Cincinnati. Meanwhile, the dealership's service department will get your vehicle working in tip-top shape, assuring that it's back in working order. Instead of having to waste money on a mechanic who "specializes in repairing BMWs," you can instead rely on the business's various expert technicians.
Convenience
While the car-buying process can be unbearable at times, BMW of Cincinnati is looking to make it just a bit more tolerable. A large reason for this sentiment has to do with their incredibly convenient hours. The sales department is open starting at 9 am from Monday through Saturday, meaning you should never struggle to carve out time to visit the dealership. Meanwhile, customers won't have to miss work in order to visit the service department. After all, you can have your car looked at starting at 7:30 am on Monday through Friday (as well as 8 am on Saturday).
The dealership is also incredibly easy to find, as the business is located right off U.S. Route 42. Thanks to the location, you won't have to spend previous time trying to find the premises. Rather, you can anticipate an easy-in, easy-out!