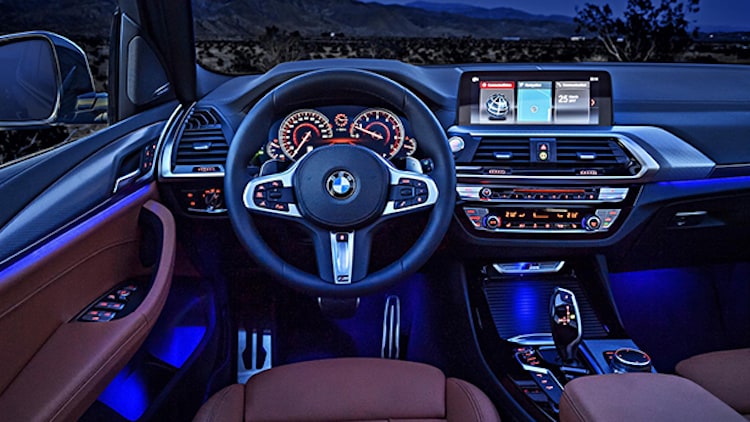 BMW is almost exclusively known for their cars. High performance, luxury features, and great reliability, many people have chosen their cars over the competition for years. Perhaps you didn't know, however, that the company that supplied James Bond with his vehicle of choice for several years also produces a fantastic range of SUVs.
That's right, a BMW SUV takes a different approach to the sport-utility design. While other companies focus solely on performance or the daily commute, a BMW SUV like the X or M is all about the whole driving experience. From great performance reliability to luxurious touches you won't find anywhere else when you choose to drive a BMW SUV, you choose to drive something unique.
If you're in the market for a new SUV, now is the time to check out what BMW has to offer you. Better still take a test drive. There's nothing quite like experiencing the power and handling capabilities of a BMW vehicle for yourself. We are confident that once you sit behind the wheel of one of our SUVs, you'll know exactly what BMW stands for.
The BMW Advantage
What keeps people coming back to the BMW model lineup time and time again? It's a combination of things. A long history of innovative design and dependable build quality makes the brand a top performer for anyone looking for a vehicle that will last a long time. More than that, it is a unique BMW experience the company delivers to each of its customers. Whether you drive a car or SUV, you will quickly discover that driving a BMW is an experience like no other.
This experience starts with the vehicle itself. BMW designers have long understood what really makes a luxury vehicle shine. It is a combination of a high-performance engine, reliable drivetrain, and interior features such as convenience and safety additions that make an SUV shine. Especially when you compare their SUVs to the competition, where the options begin to blend, a BMW SUV stands out.
This is partly due to the car-like approach BMW designers take with their SUVs. Understanding that common family sedans and coupes deliver an unrivaled driving experience in terms of comfort and handling, BMW takes the same approach with their SUVs. This means having better fuel efficiency, more sensitive suspension, and roomy interiors that will make you think you are in a smaller car.
More importantly, BMW strives to make all of their vehicles unique from other brands. The design of each vehicle, for example, speaks for itself. Elegant lines, memorable front fascias, and luxurious accents on the inside all reinforce the BMW experience as you drive around. Best of all, the BMW SUVs retain the high level of performance and traction that other SUV brands provide with their models.
SUV Options
Unlike other brands, BMW doesn't confuse you with a plethora of slightly different SUV models and trims. The company likes to keep things simple, only offering a couple of different models that cover the vast majority of needs drivers have in a larger vehicle. A BMW SUV, regardless of the model, trim, and year, is always a top performer first and foremost.
X is the magic letter you should look for when checking out the BMW SUV lineup. This series of groundbreaking, innovative SUV designs makes a statement compared to other models. Each one has the same basic, elegant exterior design. A curvy windshield and roof slope up from an understated-yet-aerodynamic nose. The overall profile of each X series model offers plenty of passenger head and leg space, with some additional cargo room, without looking like a bulky mass of vehicle. Instead, each SUV looks like the bigger brother to a BMW car.
Best of all, the X series lineup gives you options to consider depending on what you need or want from an SUV. Some of the models are meant for more urban lifestyle, offering better fuel economy and spacious interior room. Others will take you off road in style. A model like the X5, for example, gives you extensive use of the outdoors as you explore mother nature in all its glory. Great traction, powerful engine, and advanced safety features will keep you going off-road anywhere you want to travel.
The best way to truly experience what a BMW SUV feels like is for yourself. There's nothing like a test drive to experience the nuances each model has to offer. If you feel like it's time to explore what a BMW SUV may mean for you, it is time to come down to the BMW of Cincinnati dealership today.
What We Offer
Our dealership tries to match the same level of quality and service that BMW itself provides day after day. That means that when you step onto our lot, you can expect a star treatment from our stellar staff without the usual hassle of buying a new or used vehicle. In fact, as our guest, we will take care of all the major details to help you painlessly find the right vehicle. There's no other place in Cincinnati you can go for the same level of attention and help as our dealership.
Whether you're interested in a BMW SUV or one of the other excellent car options, we have you covered. Our inventory is one of the largest in the city, offering a number of new and used options from BMW and other brands. We keep this inventory well stocked with the latest models with a variety of trims so you can come to our lot and buy a car the same day if you wish. If there is something that you want that we don't have, we can easily order and deliver it within a short time-frame.
This means we can meet any and all the needs you have for a vehicle. This is how we build on top of BMW's already excellent track record of service and quality. When you buy a BMW, we understand that you expect the same type of treatment from your dealership. Since we have years of this kind of service, we are confident we will give you the best experience possible no matter what.
Service and Financing Options
A good dealership is more than just the cars they keep in stock. We understand that you can get a vehicle virtually anywhere these days, so it takes, even more, to keep you coming back time and time again. How do we meet such high demand? By giving you the complete package you need to buy, inspect, and service a vehicle from front to rear.
We staff our service department with some of the best BMW certified mechanics around. Our hiring process is one of the most rigorous in the city, meaning we don't accept just anyone to work on our lot. Each staff member and technician has to meet our extensive list of high standards so we can ensure you have the best hands working on your vehicle.
We also source replacement and spare parts directly from the manufacturer. Forget the days where you have to worry about the quality of replacement products just so the dealership can save a buck here and there. By using manufacturer-approved parts, we can make sure what we put into your vehicle meets the same high standards BMW has for anything that is put into a new vehicle.
Worried about affording a new BMW SUV? Those days are over as well. Our financing department knows how to work with people from a variety of different financial backgrounds. Whether you have great, good, or poor credit, there is a way we can help you afford and manage a new car without breaking the bank. Since an auto loan can be a great way to establish and repair your financial history if done correctly, we also help you prepare for the future so you can feel confident knowing this loan won't be a problem years later.
For trade-ins, we provide some of the best, most competitive offers around. Whether you need to sell a used vehicle or want to trade it in for a new one, we are fair and transparent when we give you an offer. That means you will know how we arrive to our offer, so you aren't left in the dark. Open, honest communication is our policy for everything we do with our customers.
Check Out a BMW SUV Today
Since we keep our inventory well-stocked with the latest models and trims, there's no time like the present to come see what BMW has to offer you for your next SUV. You can schedule a test drive or simply drop in to talk with one of our skilled salespeople. We will have you out on the road, experiencing the true pleasures of the BMW driving experience in no time.
We are also patient with your decision-making process. You will never once feel pressure from our staff to make a choice right then and there. Since it takes time to research and test drive different models, we are here to facilitate this process as much as we can. When it comes time to make the final choice, we are confident our reputation and BMW's stellar design will be enough to bring you back.
Check out the rest of our website, email us, call, or visit the lot to start looking at BMW SUVs and other vehicles today.