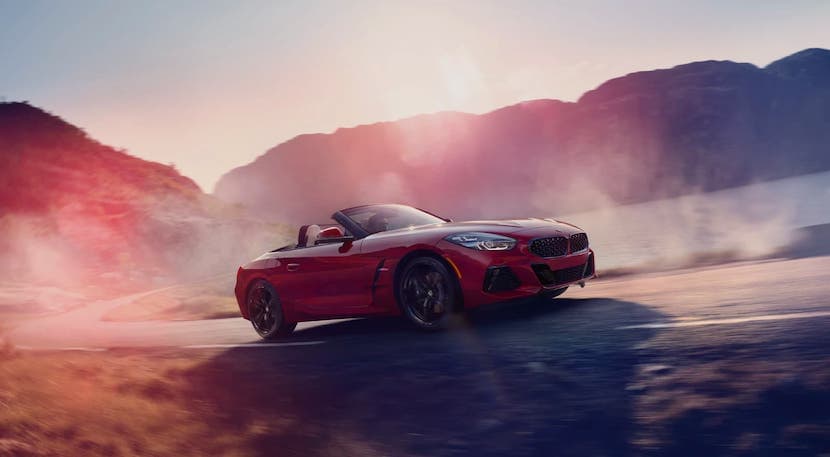 Although many companies might come to mind when thinking about vehicles with refinement and luxury, when you talk about sophistication and raw power, few can match the performance of BMW. In particular, a BMW sports car is a fantastic option if you are looking for a ride that surrounds you in some of the most luxurious features available anywhere while putting a tremendous amount of power at your command. Driving a BMW sports car is like nothing else out there, and the thrill it provides cannot be matched.
Whether you know the BMW sports car that you want, or you still have questions and a lot to figure out, we are here to help. At BMW of Cincinnati North, our knowledgeable salespeople can answer all of your questions and work closely with you to ensure you get exactly the right vehicle with everything you need. Whether that be a sophisticated and comfortable four-door sedan or a powerful BMW sports car, we will make sure you drive away completely satisfied. Come visit us at BMW of Cincinnati North today to find out more and discover the exhilarating driving experience that you have been missing.
The BMW Z4 - The Pure Sports Car
The BMW Z4 roadster is one of the most impressive and stunning pieces of machinery to ever hit the road. Among the lineup of BMW sports cars, it is certainly a standout and offers tremendous performance with an elegant and eye-catching style. With both a standard model and an M version are available, if you are looking for remarkable power with a look that is truly irresistible, then the Z4 is a fantastic choice.
With the standard Z4 30i model, you get a powerful and gorgeous sports car that truly gives you command over the road. This beauty features a 2.0L TwinPower Turbo I-4 engine that offers up to 255 hp and 294 lb-ft of torque. This engine comes paired with an 8-speed Sport Automatic transmission with steering-wheel-mounted paddle shifters. The Z4 30i is equipped with 18-inch wheels and performance tires, has a top speed of 155 mph, and can go from 0 to 60 in 5.2 seconds.
Inside the Z4, you will find all of the luxury and sophistication that you would expect from a BWM sports car. This includes dynamic cruise control, a 3-spoke leather-wrapped steering wheel with controls for audio and cruise control, and much more. It features a 10.25-inch touchscreen infotainment display and a second 10.25-inch digital instrument cluster for the driver. You get power-adjustable sports seats, automatic climate control, BMW ambient lighting, and advanced memory settings for nearly every aspect of the vehicle.
If you want even more power from you Z4, however, then consider the Z4 M40i model. This version features an incredible 3.0L BMW M TwinPower Turbo I-6 engine, which delivers up to 382 hp and 368 lb-ft of torque. With this engine, the Z4 M40i can go from 0 to 60 in 3.9 seconds, placing a tremendous amount of power and performance in your hands.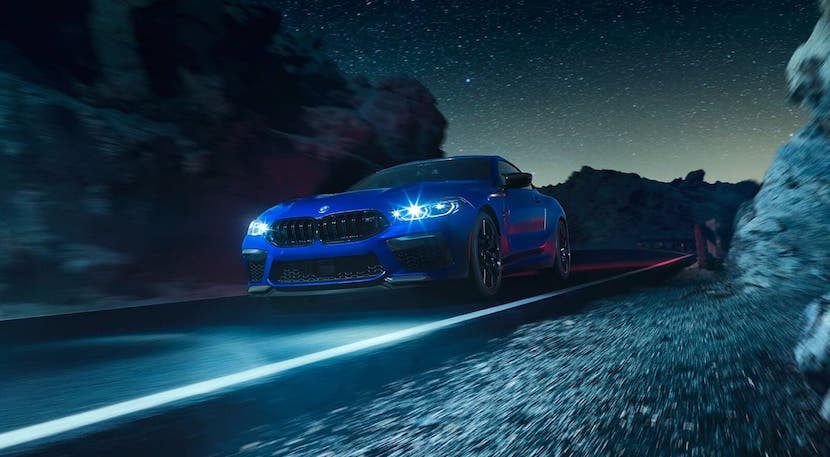 The BMW M8 - The Most Powerful BMW
When looking for a BWM sports car, the M8 is a fantastic option because you have a few different variants to choose from. This gives you a lot of flexibility that you might not find with many other vehicles, and it allows you to get just what you need. While the coupe and convertible options are largely the same, the Gran Coupe has some significant differences worth considering if you are looking for a more spacious sports car.
The standard BMW M8 is a coupe model that features a 4.4L BMW M TwinPower Turbo V8 engine that delivers up to 600 hp and 553 lb-ft of torque for amazing performance. This comes paired with an 8-speed M STEPTRONIC automatic transmission with Drivelogic and steering wheel-mounted paddle shifters, plus launch control for incredible acceleration. The car has 20-inch wheels and comes with performance tires T.he standard M8 Coupe has a top speed of 156 mph and can go from 0 to 60 in just 3.0 seconds.
You can also get the M8 as a convertible, which has the same engine and essentially identical performance, but with a convertible top. Inside the M8 Coupe, you will find a 16-speaker Harman Kardon audio system, while the convertible model has a similar 12-speaker setup. Both models feature a 3-spoke leather-wrapped M Sport steering wheel, a 10.25-inch infotainment display, 12.3-inch driver information cluster, and 16-way power front seats. A Competition model is available for both the M8 Coupe and Convertible, which tunes the engine to deliver up to 617hp for even more impressive performance.
If you want an M8 BMW sports car with a bit more room inside, then consider the M8 Gran Coupe, which offers tremendous performance combined with a larger interior and four doors. This gives you safe, comfortable seating for up to five people, with four-zone climate control and sport-designed rear seats covered in Merino leather. It still has the same amazing 4.4L BMW M TwinPower Turbo V8 engine with 600 hp and 553 lb-ft of torque, so you and your passengers will have an incredible experience.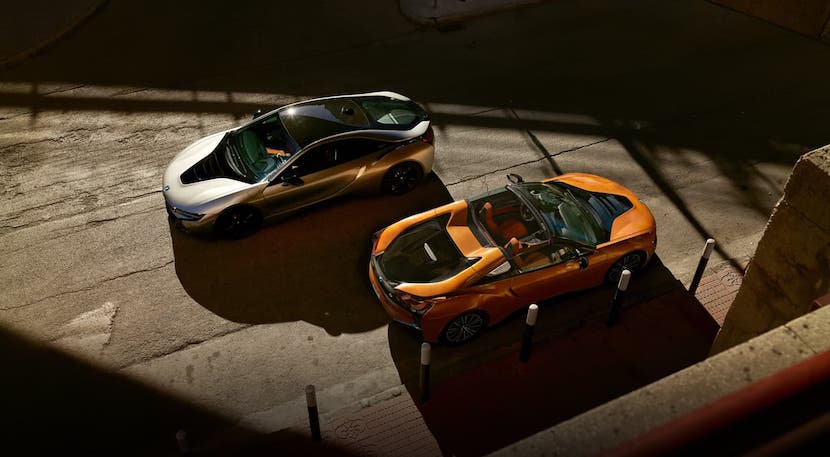 The BMW i8 - the Hybrid Sports Car
One of the BMW sports cars that we are most excited about is the i8, a plug-in high-performance hybrid that is available as either a coupe or a roadster. Although there are plenty of sports cars out there, and quite a few plug-in hybrids available, there truly is nothing else on the road that brings these two concepts together quite like the i8. With a powerful engine, a gorgeous design, and a stunning interior, this is an expression of luxury and performance you will not find anywhere else.
Like all hybrids, the BMW i8 is powered by the combination of a gasoline engine and an electric more. The engine is a 1.5L TwinPower Turbo 3-cylinder that delivers up to 227 hp and 235 lb-ft of torque, while the AC synchronous electric motor offers an additional 141 hp and 250 lb-ft of torque. Together, they push the i8 from 0 to 60 in just 4.2 seconds and give the car a top speed of 155 mph. The battery can be fully charged in roughly 3 hours and, when fully charged, has enough energy to move the car 17 miles on electricity alone.
Nothing else on the road quite looks like the BMW i8, not even other BMW sports cars. It has an extremely elegant design that immediately evokes images of high-powered supercars. It features U-shape LED brake lights, 20-inch wheels, and scissor doors that lift upward toward the front of the car to open. It is bold, stylish, and incredibly powerful. In addition to the standard Coupe, there is a two-seat Roadster model available that includes a power-retractable soft-top.
Inside the BMW i8, you will find a Harman Kardon premium sound system, a 3-spoke leather-wrapped steering wheel, and a full-color head-up display that provides you with a tremendous amount of information on your windshield. You also get an 8.8-inch high-resolution instrument cluster, an 8.8-inch infotainment display, and BMW ambient LED lighting.
Find Your Dream Car Today
No matter what kind of BMW sports car you are looking for, we have you covered. Our helpful and knowledgeable salespeople can assist you in exploring all of your options and make sure you drive away in the perfect model with everything you need. Call or come visit us at BMW of Cincinnati North today and discover how elegant power and performance can be.