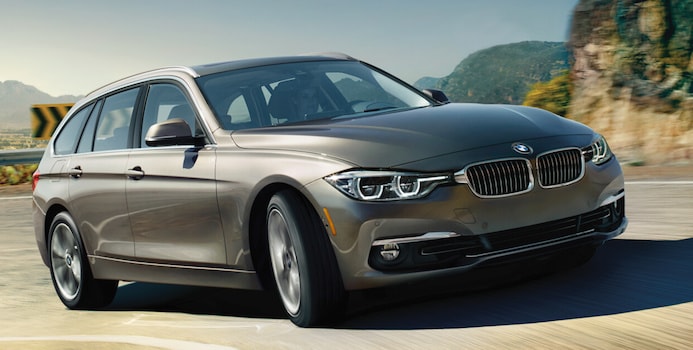 Admit it: you've always dreamed of riding around town in a new BMW, but you've always figured that the brand's crop of vehicles are out of your price range. While the company's products are certainly a bit exclusive, that doesn't mean it's unrealistic for you to pursue one of their offerings. In fact, BMW actually has "inexpensive" sedan, convertible, and SUV options. No matter what type of vehicle you've been eyeing, you'll surely be able to find a proper fit from BMW that can logically fit within your budget.
Once you determine that this might actually be the proper path, you'll surely be seeking a BMW for sale in no time. Of course, first you'll need to understand which of the brand's vehicles are actually a logical target, and we've provided you with some of the company's most affordable offerings for each of their available segments. When you've finishing reading everything that these individual vehicles can deliver, you'll be itching to find BMWs for sale in Cincinnati…
BMW 3 Series Sedan
This particular BMW vehicle may be one of the brand's most "inexpensive" offerings. Of course, the vehicle is still pricier than your standard sedan; however, it's anything but standard. On the contrary, the BMW 3 Series is one of the most impressive vehicles in the entire class.
One of the most impressive attributes of this vehicle is the incredible five available engine offerings, meaning customers can truly find a unit that fits their needs and wants. The 320i engine is the smallest of the bunch, as the four-cylinder TwinPower Turbo engine manages to crank out 180 horsepower and 200 pounds-feet of torque. Predictably, the 330i four-cylinder TwinPower Turbo engine takes those power specs to another level, delivering 248 horsepower and 258 pounds-feet of torque. Next in line is the impressive 330e 2.0-liter four-cylinder engine, which promises 248 horsepower and 310 pounds-feet of torque (leading to an impressive 0-to-60 time of 5.9 seconds). Finally, for those seeking a standard engine, the 340i system is the most impressive of the bunch, as the six-cylinder engine manages to crank out 320 horsepower and 330 pounds-feet of torque. There's even a 2.0-liter TwinPower Turbo Diesel four-cylinder engine, which delivers 180 horsepower and 280 pounds-feet of torque (leading to a seven-second zero-to-60 time when accompanied by the brand's eight-speed automatic transmission).
Of course, it wouldn't be a BMW luxury vehicle if the car wasn't accompanied by a number of classy and innovative features. The 3 Series includes an available BMW ConnectedDrive and BMW Navigation system, which will prove the perfect accompaniment during any of your journeys. The Head-Up Display is another appreciated inclusion, as drivers won't have to strain their neck as they're attempting to gauge their speed, fuel efficiency, or vehicle diagnostics.
BMW 2 Series Convertible
If you truly want to ride in style, then you could consider opting for any of BMW's luxurious convertible offerings. Of course, since we're operating within a hypothetical budget, then the BMW 2 Series Convertible is undoubtedly the proper target. The stylish vehicle will leave your fellow drivers gawking, even when you access your Black, Moonlight Black, or Brown soft-top (which can open and close in only 22 seconds).  Meanwhile, the "throwback" interior design will certainly impress any of your passengers. Even inclusions like the 8.8-inch display are worth noting, as they'll provide owners with countless hours of entertainment, assistance, and convenience. Other brands can tout their infotainment system, but few units provide more offerings than BMW. Customers can even opt for the available Wi-Fi Hotspot (with accompanying wireless phone charging dock), meaning they can constantly stay connected to the internet. 
Of course, as a potential car buyer, you likely envision yourself zooming down the highway in your new convertible. Fortunately, the BMW 2 Series makes that a reality, as the standard four-cylinder TwinPower Turbo 230i engine delivers all of the power you could possibly seek. Drivers can ultimately anticipate 248 horsepower and 258 pounds-feet of torque, numbers that are rarely seen in this particular segment. Alternatively, customers can opt for the M240i 3.0-liter six-cylinder TwinPower Turbo engine, which boosts those power specs to 335 horsepower and 369 pounds-feet of torque. Predictably, this influences performance, as owners can also expect their new convertible to reach 60 miles per hour in a speedy 4.4 seconds.
Despite all of that power, the BMW 2 Series Convertible will still be incredibly easy to control. That's because engineers included an array of safety features that should make the car relatively easy to handle. For instance, the Dynamic Stability Control will rely on built-in sensors to determine when you've strayed from your intended path. Meanwhile, the accompanying Dynamic Traction Control will assure that your vehicle is consistently maintaining its grip with the ground, thus preventing any sudden skids or sliding.
BMW X1
Perhaps a smaller car doesn't fit your needs, in which case you'll want to switch focus to SUVs. Unsurprisingly, BMW offers a number of capable and luxurious sports utility vehicle offerings, with the X1 being the most "inexpensive" of the options. Similar to the other vehicles we've explored, this fact doesn't make the model any less impressive. 
Similar to many SUVs, the main selling point of this particular vehicle is the incredible amount of interior room. Owners will be able to capitalize on the best-in-class 58.7-cubic-feet of interior space when the seats have been folded down, and they can also hide valuable cargo in the center console and cargo floor space. Plus, thanks to the 40/20/40 rear folding seats, owners can adapt their SUV's interior to fit any combination of passengers and luggage. Unsurprisingly, this abundance of interior room also benefits the occupants, as your passengers will surely appreciate the 39.4-inches of rear headroom as well as the sliding/reclining back seats.
Unlike some of the brand's other vehicles, the BMW X1 is only equipped with one single engine option, although this unit is still plenty capable. Drivers can ultimately expect 228 horsepower and 258 pounds-feet of torque from the 2.0-liter four-cylinder TwinPower Turbo engine. Plus, with engineers including High Precision Direct Injection, the Valvetronic system, and Double-VANOS technologies, drivers can anticipate an impressive 31-mile-per-gallon highway fuel efficiency. While customers will be forced to spend a pretty penny on their new car, they'll be able to save some extra money at the gas pump. 
Fortunately, drivers won't have any issues controlling that powerful SUV, as the BMW X1 was designated a 2017 Top Safety Pick by the Insurance Institute for Highway Safety. This accolade can be attributed to inclusions like the Dynamic Stability Control and the Dynamic Traction Control, which will help the SUV continue to travel through any type of road or weather conditions. Even the LED headlights with Cornering Lights are a useful addition. This inclusion won't only alert your fellow drivers of your presence, but will also provide additional illumination when you're traveling on those dark, hard-to-see roads.
BMW 1 Series Three-Door
Three-door vehicles aren't necessarily known for their power. However, none of these vehicles are as impressive as the BMW 1 Series Three-Door. The M Performance TwinPower Turbo inline six-cylinder engine is one of the most impressive offerings in the entire class, cranking out an incredible 340 horsepower. These specs team up with the accompanying eight-speed Steptronic Sport transmission to deliver an impressive 0-to-62 time of 4.4 seconds and top speed of 155 miles per hour.
Of course, BMW also promises an excellent driving experience, and a big reason for this sentiment is the accompanying technological amenities. For instance, the brand's ConnectedDrive Digital Services provides easy access to an assortment of applications via the accompanying touchscreen. The Apple CarPlay compatibility means the driver or passenger can also connect their smartphone, while the Concierge Service will prove to be the perfect companion during a long road trip.
BMW 4 Series Gran Coupe
Customers surely expect the utmost elegance from a BMW, and there's no denying that the BMW 4 Series Gran Coupe delivers in this regard. The vehicle's exterior aesthetics are unmatched, as the sleek design will leave your other fellow drivers gawking. The front of the vehicle contains a rugged, athletic hood and noticeable LED headlights, while the square rear adds that bit of elegance that customers are surely seeking from the luxury coupe.
Meanwhile, the interior is highlighted by high-quality materials and upholsteries, with the expert stitching and chrome details adding a whole lot of opulence. The interior is also notable for the array of technological amenities, including the appreciated BMW Head-Up Display. This unit displays important information right in front of the driver, meaning they won't have to strain their neck in order to view their speed, fuel efficiency, or vehicle diagnostics.
BMW 5 Series Touring
Looking for a slightly larger vehicle? Then you'll surely appreciate the BMW 5 Series Touring, which is one of the brand's largest non-SUV offerings. While we previously touched on BMW's assortment of interior features, the Touring includes an impressive amount of interior room. Drivers will have immediate access to 20-cubic-feet of space, but they can unlock up to 60-cubic-feet by reconfiguring their interior. For instance, the 40:20:40 split seats allows you to fit a combination of cargo and passengers, meaning there's really no limit to how much luggage or equipment you can actually fit in your ride.
Best of all, BMW makes it incredibly easy to store all of this cargo. The automatic tailgate will open with a simply press of a button, meaning you don't have to finagle with your keys while your hands are full of groceries. In other words, drivers won't think twice about volunteering their BMW for any road trip or journey.
BMW 6 Series Gran Turismo
Perhaps you're seeking the ultimate racer, in which case you won't find a sportier offering than the awe-inspiring BMW 6 Series Gran Turismo. This unit delivers all of the power a driver could possibly be seeking, including a 335 horsepower and 450 pounds-feet of torque. These specs predictably transform the vehicle into one of the most athletic offerings on the road, as drivers can anticipate a 0-to-63 time of 5.3 seconds. You'll be hard pressed to find a similar vehicle that delivers as much power and speed as this specific BMW.
Of course, this BMW delivers more than just power. The brand also added a number of notable convenience features that will surely improve any commute. The Parking Assistant mode with accompanying 3D Surround View will allow drivers to monitor everything that's happening around their vehicle, allowing them to avoid a potential fender bender. Alternatively, drivers can rely on the Remote Control Parking, which will help guide them in or out of a tight parking spot.
BMW 7 Series Sedan
Engineers were clearly focused on driver and passenger comfort when it came to this specific BMW, and there's no denying that they succeeded. The 7 Series Sedan's assortment of comfort features will surely make every occupant content during a journey. For starters, the brand included an "executive lounge" in the back, which provides a whole lot of room for occupants to stretch out. The seats can be equipped with massaging functions, thus keeping these passengers comfortable, and the accompanying folding table means they can easily complete any work.
If these rear passengers prefer, they can watch all of their favorite movies or tv shows via the rear-seat entertainment experience. Alternatively, they can appreciate all of their favorite songs and an unmatched listening experience thanks to the Bowers & Wilkins Diamond surround sound system. Including 16 speakers and a pair of subwoofers (including the accompanying Rohacell technology), occupants will truly receive an unmatched listening experience.
BMW X5 M
If you're in the market for a new SUV, then you'll surely be clamoring over the BMW X5 M. This rugged vehicle isn't your typical BMW, as drivers won't think twice about taking their ride off the beaten path. This sentiment is emphasized by the 567 horsepower, which should provide the driver with more than enough muscle to overcome any odd terrain or conditions. Plus, with mechanical inclusions like an eight-speed M Steptronic transmission, M compound brakes, and Dynamic Performance Control, drivers can expect one of the smoothest driving experiences out there.
Of course, to help accommodate all of this power and off-roading prowess, engineers cleverly included a number of safety functions in their SUV, and these offerings should help drivers avoid accidents altogether. For instance, the Dynamic Stability Control unit will allow the driver to stay in complete control, as the technology can adjust the vehicle's operation if things begin to go wary. Even the 21-inch M light alloy wheels (with the unique double spoke style) could be a notable "safety function." These larger inclusions should be able to battle through any slush or ice, and they'll also contribute to the vehicle's excellent traction.