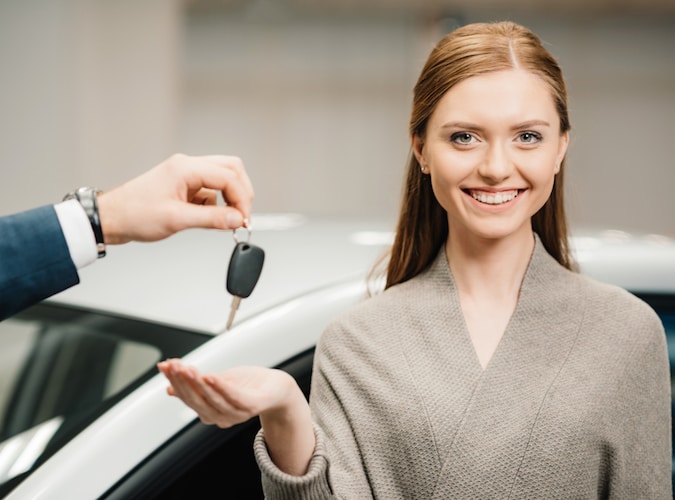 The BMW brand has long been known for excellence. BMW dealers near you know that if you are in the market for a BMW, you not only know what you want, you know that you are in search of a quality product. As a Cincinnati BMW dealership, we are aware that our customers not only want a high-quality driving machine, they also want a high-quality dealership, sales force, and experience. The best BMW Cincinnati dealership near me is here to offer all of these things and more.
Not only are returning customers of a high-quality value to us, new customers are as well. BMW is not just for the large budgeted individuals anymore. BMW has offerings that are meant to suit anybody's budget. Large or small. The BMW auto manufacturing company has a great selection of vehicles in a number of different price ranges. No matter what you are looking for, whether an SUV, a sports coupe or a convertible sedan, BMW Cincinnati has the right car for you, at the right price.
Models
BMW Cincinnati has a selection of many different models to choose from. Starting with 14 different models available in an assortment of trim and options, the perfect BMW for you is right here at BMW Cincinnati, the ideal BMW dealership near you.
Offers
BMW Cincinnati offers a variety of specials, deals, and services to better accommodate all of our customers, returning or new. Starting with our new inventory, our selection is top of the line. Buying a new BMW has never been easier than it is today. New BMWs are available as well as remaining 2016 models that have never been purchased and are reduced in price.
We offer a courtesy loaner service for valued customers to take part in at any time. The loaners that are no longer in service with us or are "retired," are a great deal on a gently used BMW newer year model. Inquire about the retired loaners for sale if you are interested in a reduced priced newer model year BMW.
Lease specials are coming and going all the time. We offer a very competitive lease program for those of you that do not want to deal with the hassle of car ownership. With a lease, the dealership retains the ownership of the vehicle, and with it, the responsibility for maintenance, repairs, and service. Our competitive lease program is like no other around.
Our website offers a superb lease searching tool. Using this great piece of software, a person can enter the detail and specifics that they want, such as payment amount maximum, model year, model series, drivetrain, fuel type, and vehicle packages. Utilizing this unique lease finding tool, the perfect lease is only a few clicks away.
We are constantly offering great deals on brand new factory delivered BMWs. Our prices and sales are the best around. It has never been easier to compare either. Use our website's new BMW offers page to check out BMW lease and finance offers that are updated all the time.
The College graduate program is designed to help college graduates rule the real world, in a class and style like no other. Right now the parks of this program are a $1,500 discount used towards a certified pre-owned BMW along with the best available financing rate there is. At BMW we know that your image does matter.
Our Corporate partner's program now applies to over 2,000 companies. The program gives exclusive perks to support eligible company's existing vehicle program. Special sales and reduced service incentives apply to select companies across the nation. Up to $5,000 is available for the purchase or lease of a BMW to eligible partners. BMW maintenance programs, BMW ultimate care, roadside assistance, BMW assist safety program, and optional convenience program are some of the benefits. A complimentary BMW loaner vehicle may be provided during scheduled service and maintenance, along with discounted rates for BMW performance school graduates, and a dedicated BMW North America contact.
BMW Genius is a program where a qualified BMW expert will walk you through finding the absolutely perfect BMW for just your specific lifestyle. A BMW Genius is a specifically trained individual who will explain everything about your BMW before, during, and after you make the purchase.
The "Build Your Own BMW" program is available to anybody who wants a specific BMW model tailored to their unique needs. Using our online template, the model, body style, trim, drivetrain, horsepower fuel type/economy, and even the MSRP can all be filtered so that the perfect BMW for you, specifically, is made and shipped at a budget you want.
BMW certified pre-owned vehicles are always up for special incentives and offers. From financing specials to reward credits our offers are always changing, so keep updated to find the right program that suits you.
Ambassadors
BMW dealerships are not as common as some of the other major auto manufacturers, but that does not diminish the quality of the vehicle. Quite the contrary actually. Basic economics state that if the supply for something is scarce, the demand for it will be high. BMW vehicles are always in high demand whether brand new or a certified pre-owned. The BMW name carries a unique superior quality with it that other major car manufacturers simply do not have. Flexible hours, a supreme capability website, and Genius customer sales associates create a shopping experience that is like no other. Our services and offerings extend to our customers far after the purchase of the vehicle has been completed. We are always asking and offering our assistance if we can help our customers out in any way at all.
Service Department
At BMW Cincinnati, we have a service department that goes above and beyond that of other car dealers. We have our service department open six days a week and offer a number of different programs through our highly trained vehicle maintence department. The BMW tire center helps you receive the proper tires for your BMW while the order parts service will help you recieve the right part for the right job on the right car. We have a 100,000 mile car club, a certified BMW collision center, as well as A/C services, detailing, and battery services. We have specialized wiper, tire and brake services, as well as a diagnostics service, a coolant flush service, and prompt efficent oil change services. Our steering and suspension center will fix any under carriage issues, while our BMW performance department can upgrade replace or fix any part on your BMW. We have the trained and experienced professionals that live, breathe, read, eat, and sweat BMWs all day and all night. We are so proud to work with BMWs all the time, that you bet, we own them, too.
We are proud to offer our BMW maintence program. This gives the owner up to 4 years or 50,000 miles, (whichever comes first,) of the best comprehensive maintenence program in its class. The program covers all factory recommended maintenance servicing during the new vehicle limited warranty period. Even specific items related to normal wear and tear are covered as well. Brake pads, brake discs, clutch disk, wiper blade inserts and more. BMW offers these at no cost to the consumer. How many other major auto manufacturers can say that?