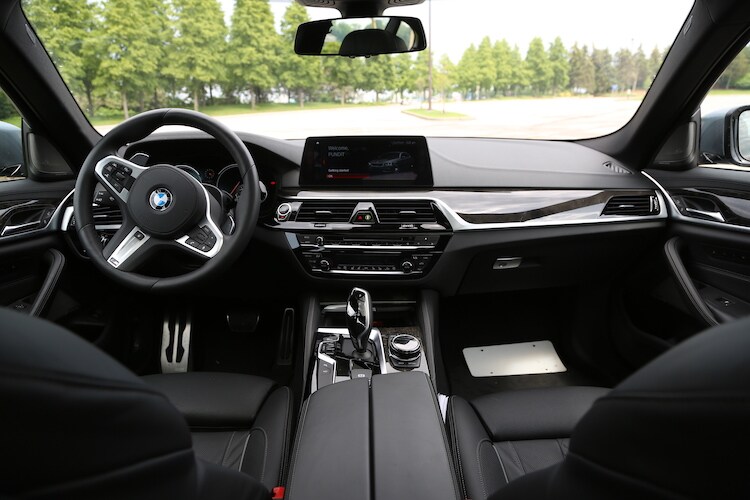 These days, it is good to be an automotive customer. You have a number of manufacturers and models to choose from to find that dream ride. Recognizing this, BMW of Cincinnati takes extra steps to answer the question, "Why BMW cars?"
It is an honest question that nearly every potential vehicle owner wonders about many brands. The choice between one manufacturer over another can be more than just the differences between lineups. Even if you have the perfect model in mind, there is more to a major decision. You need to feel confident that the automotive company has your interests in mind.
Why BMW?
It is a question that BMW continues to strive to answer time and time again. To remain competitive against the competition, the company has taken extra steps to keep customers coming back when they have an automotive need. Whether you need a new car or some service work done, the customer service of BMW and our dealership will make it clear why BMW is the best choice.
Simply put, BMW stands out from the competition in a number of important ways. The company is never satisfied with success today. To keep the customer happy, BMW keeps innovating for the future. Since customer's needs are always changing, the company recognizes that it has to change as well to keep up.
The importance of customer service does not stop with a great lineup of vehicle models either. Being a customer of BMW means you will get the whole service experience long after you drive off of the lot. In addition to the stellar services we here at BMW of Cincinnati offer, there is little you will need that we can't meet.
Vehicles For All Types
BMW likes to keep things simple when it comes to their model lineup. While other manufacturers offer twenty differ models with countless trims and packages that just confuse customers, BMW has structured their offerings with the customer in mind. Depending on what you need, you will likely find the right choice. Best of all, the trims and packages within each model are all straightforward and easy to understand.
BMW specializes in luxury cars and SUVs. Yes, you will not find a truck in the mix, but the larger vehicles are more than capable for carrying cargo, hauling trailers, and going off-road. More importantly, all of the vehicles are filled with interior luxury features and accents you will not find anywhere else. BMW vehicles are safe and comfortable to drive whether you need a family daily commuter or a personal ride to make a statement on the road.
Thanks to BMW's naming conventions, it is easy to see which car options you have right from a quick glance at the model lineup. The cars, labeled 2-7 in addition to the M, span the whole range of compact, sedan, and coupe styles. Depending on what you want or need, there is the perfect model waiting for you on the BMW of Cincinnati dealership lot.
2
On the small side of the car lineup, the 2-Series is the car to choose when you need a little bit of pickup and speed without the cost of fuel in a less efficient engine. As a compact car, the two-door vehicle is sport in its overall handling. Depending on the variant that you choose, you will get either a standard rear-wheel drive or all-wheel option. At the top, the M240i cranks out 335 horsepower. Choose the convertible option if you want the true feel of the outdoors speeding by.
3
BMW has a stellar reputation, in part, due to the popularity of the 3-Series. Few other sedans offer the same amount of choice and customization as the 3. From sedans, sport wags, and grand tour-ready frames, the 3 has a history of offering customers a personal touch. This series is perfect for the daily commute, off-roading, or long road trips where you need extra comfort. Advanced steering, responsive suspension, and a near 50/50 weight distribution also make this car feel much sportier than its size would suggest.
4
Considered by some to be the sportier brother of the 3-Series, the 4 offers a great combination of sedan-like comfort with a sports car pedigree. Offered as a coupe or a convertible, the 4-series is small and lightweight with a TwinPoewr Turbo that delivers 320 horsepower. On the inside, you will see the accents of a sports car with paddle shifters, race-inspired dashboard, and comfortable interior seating.
5
5 is the magic number when you want a more family-oriented sedan that does not skip out on the luxury and performance BMW can deliver. The 5-series come in as an affordable sedan option that can hold around five people comfortably. If you have ever wondered what a BMW hybrid would be like, the plug-in battery and motor of the 530i will tell you everything you need to know: better fuel efficiency and acceleration without a high cost.
6
The higher up you go the BMW model lineup, the more performance you will discover. The 6-series is the point where you start to find a true sports-like car with more elegant curves and angles on the exterior for better aerodynamics. The series is so performance-oriented that it even offers a high-end trim tuned by the world-renowned Bavarian tuning house, ALPINA. With around 445 horsepower, this car will not leave you wanting more in terms of speed.
7
What happens when you take everything unique about the previous BMW models and combine them into a single sedan-like chassis? You get the 7-series. Built like a family car with the engine of a smaller coupe, the 7-series offers the most in terms of standard interior features and luxury. Topping out at 445 horsepower, the car handles like a smaller compact while offering enough space to spread out and relax on long trips. When most people think of BMW, they image everything the 7-series embodies.
M & Z
These final two letters hold a special place in the BMW lineup since they both infuse race-quality parts into a vehicle that retains its family-friendly orientation. Coming in coupe, sedan, and convertible styles, both the M & Z lines are designed with better power-to-weight ratio, front/rear weight distribution, and durable racing parts in the transmission and drivetrain systems.
BMW Of Cincinnati
The company may not offer the rocket launchers and tire spikes you used to see in the BMWs James Bond drove, but modern BMW cars are always pushing the limit in terms of innovation. Technologically, BMW cars are right up in there with the latest the automotive industry has to offer. More importantly, the company innovates in areas that are really important to the driving experience BMW customers have.
Having a great manufacturer is only the start when it comes to getting the best out of your next vehicle purchase. You need the right dealership that understands what you really need as a customer. To get the best customer service and car-purchasing experience, choose BMW of Cincinnati.
We know everything about BMW cars and SUVs. Our large inventory of current models is always present for you to find the right vehicle to drive. Our great service staff can help you find the best choice for you regardless of your budget. Come on down today to experience the great service BMW of Cincinnati has to offer.