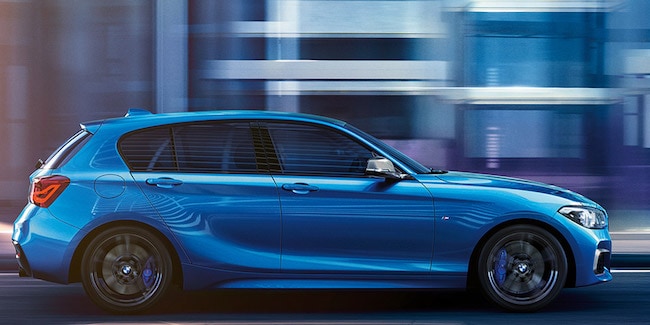 Once you've decided to purchase the world's ultimate driving machine, you've become part of something iconic. With a legacy that stretches back over a century, and both eyes fixed firmly on the future of driving, BMW makes it is a truly exciting time to be an owner. 
And it stands to reason that, with their continuing advancements in performance technology and autonomous driving make it equally thrilling to be a BMW Dealership. After all, what's not to like about the opportunity to put people behind the wheel of some of the world's most innovative, luxury performance vehicles?
And yet, its the breadth of offerings that secretly fuels the appeal of today's BMW. With such a thoroughly conceived line, there truly is a BMW for every taste. With each one conveying precision of German engineering, inspired styling and unparalleled comfort the greatest challenge may come in selecting which one suits you best. Based on design, each speaks confidently for itself. With that in mind, let's look deeper…
BMW 1 Series
The hatchback styling of the 1 Series is made available in both 3 and 5-door styling. While serving as a cornerstone of the compact premium class, there is nothing diminutive about the 1 Series' conceptualization or its execution. 
Unfortunately for American drivers, the hatchback is a European exclusive (with a sedan offering made available in China, as well). While not immediately available in the states, it still serves as a reminder of BMW's ability to translate its ideas into a range of vehicle stylings.
BMW 2 Series
If this is your first step into the world of BMW ownership, the 2 Series stands out as a perfect consideration based on its accessibility, all without sacrificing any of BMW's trademark exclusivity. Tread lightly, though. Combining diverse body stylings with masterfully engineered powertrain configurations, the 2 Series might be your ideal next step. 
Available as either a sport-styled coupe or convertible, the 2 Series serves up two-door models (denoted by either 230i or M240i, based on their respective powertrain). Additional body stylings include the wagon-style Active Tourer, the scaled-up Gran Tourer and the (plug-in) hybrid 225xe.
The 230i is powered by a turbocharged 2.0-liter four-cylinder engine, rated at 248 horsepower and 258 lb-ft of torque with fuel economy ranging from 25-27 mpg (combined) depending on body styling and drivetrain. The M240i boasts a turbocharged 3.0-liter I6, thrusting forward on 335 hp and 369 lb-ft and delivering 26-27 mpg (also depending on style and drivetrain).
BMW 3 Series
The enduring popularity of the 3 Series is the equivalent of a spotlight in the darkness, luring enthusiasts to it like moths to a flame. Perhaps a better analogy for the 3 Series would be a cocktail, blending performance, fuel-efficiency, comfort, and refinement with precision. 
Available in a four-door sedan (denoted by 320i, 328d, 330i and 340i) or wagon (differentiated by the xDrive suffix) the 3 Series also boasts its own (plug-in) hybrid variant in the 330e sedan.
BMW 4 Series
The luxury styling of the 4 Series coupe and convertible styling serves as a road marker, directing us, as we edge ever closer to the executive refinement of BMW's latter series.
4 Series offerings include a turbocharged 2.0-liter four-cylinder (430i) rated for 248 horsepower, 258 lb-ft of torque and 27 mpg combined or the turbocharged 3.0-liter I6 channeling 320 hp, 330 lb-ft and 25 mpg (combined).
BMW 5 Series
The 5 Series represents BMW's confident foothold in the midsize luxury sedan class. Boasting increases in both length and height, the newest model year also reflects a significant (up to 137 pounds) weight reduction. With enhanced spaciousness and an improved power-to-weight ratio, the formidable 5 Series is available in two powertrain configurations. The 530i is powered by BMW's turbocharged four-cylinder with its 248 hp, 258 lb-ft and 27 mpg (combined). Equipped with the twin-turbo 3.0-liter I6, the 540i models serve up 335 hp and 332 lb-ft.
BMW 6 Series
Offerings within BMW's 6 Series reflect high-end refinement, exceeding every expectation of performance, quality, comfort, and style. Available in two-door Coupe or Convertible styling, you can also opt for the four-door Gran Coupe or Gran Turismo variants.
Powered by a 3.0-liter I6, the 640i is rated at 315 horsepower, 330 lb-ft of torque and 23-24 mpg (combined). Still not satisfied? The 650i makes impeccable use of a turbocharged 4.4-liter V8, serving up 445 hp, 480 lb-ft of torque and 19-20 mpg (combined).
BMW 7 Series
Viewed by many as the apex of full-size, luxury sedans. Made available as a six-cylinder (740i) or eight-cylinder (750i) sedan, the (740e) hybrid variant and as a premier-level (M760i) sedan, a single encounter makes it easy to understand why. 
The 740i is equipped with a turbocharged 3.0-liter I6 rated at 320 horsepower and 322 lb-ft of torque. The 750i serves up its turbocharged 4.4-liter V8 that delivers 445 hp and 480 lb-ft. Jumping up to the M760i, BMW (politely) devastates all that step to it with a 6.6-liter V12 thrusting out 601 hp and 595 lb-ft.
And More…
BMW also offers a wide range of crossovers, branded within the X Series. Evoking the styling and performance of the above series, X offerings apply BMW's engineering refinement to the versatility of crossover SUVs.
BMW's (Motorsport) M series boast race-inspired powertrains and suspensions and are aerodynamically designed to mirror the specialty vehicles which they emulate. These variants build upon the foundations of BMW's coupe, sedan, convertible and crossover stylings.
Which Best Suits You?
Just as there is no 'one kind' of BMW, there is no 'one kind' of BMW driver. With a vast selection of size, styling, power and pricing BMW offers up something for every brand of driving enthusiast. So, which BMW best suits you?