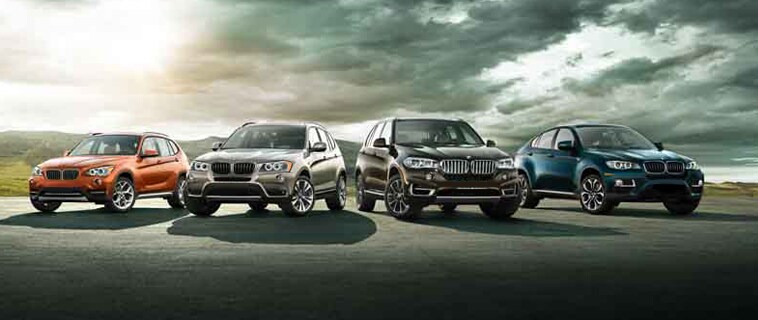 THE BMW X SERIES
VERSATILITY HAS NEVER LOOKED THIS GOOD.
Not many car companies can say they are beholden to no one. But BMW has been independent since its inception in 1913. That means, for more than eight decades, we've been building vehicles that are uncompromised, authentic and exhilarating to drive. We're pleased to introduce the X Series.
The BMW X Series is sporty, sophisticated, and eco-savvy. In fact, it's easy to embrace your green side with the X Series which offers fuel-saving technologies like brake energy regeneration, auto start-stop, and Eco Pro mode. Plus get up to 27 mpg on the highway. The BMW X Series offers great fuel economy without ever sacrificing performance.
Since luxury should include total peace of mind, every BMW provides drivers with active and passive safety features. The BMW X Series is no exception. Drivers can expect agile steering, a rear-view camera, advanced airbags, and more.
THE BMW X SERIES FAMILY
X1 SAV
X3 SAV
X5 SAV
X5 M SAV
X6 SAV
X6 M SAV
X6 Sports Activity Coupe
X6 M Sports Activity Coupe
THE ART OF CREATING "THE ULTIMATE DRIVING MACHINE"
Just as timeless design is grounded in logic, there is beauty in inspired engineering. At BMW, an independent company that cherishes great ideas, our engineers and designers have the freedom to unleash their creativity. That's why we are able to build vehicles that perform as dynamically as they look - and deliver driving joy mile after mile, year after year. After nine decades, our greatest achievement continues to be delivering the ultimate driving experience.