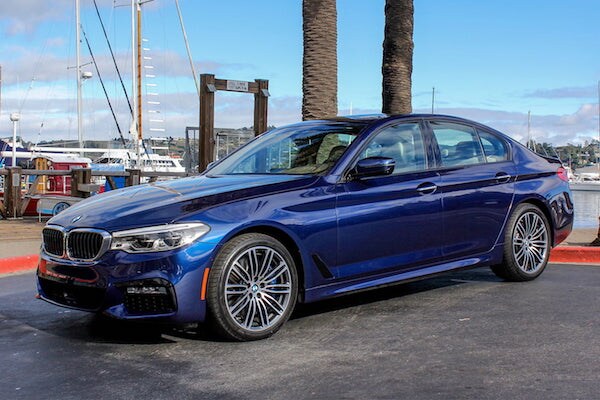 'The Ultimate Driving Machine' is more than just a clever turn-of-phrase dreamt up to headline a marketing initiative. Subjective opinions aside, it speaks to the visionary benchmark established by BMW. Revered by consumer and competitor alike, this perfect union of inspired design, refined engineering and superior performance require no tagline. When driving a BMW, the experience alone speaks for itself.
Searching BMW For Sale is the first step in experiencing this for yourself. At BMW of Cincinnati North we pride ourselves on embodying the high-standards of service required in order to meet the high-expectations of any (and every) BMW customer. 
New BMW Inventory
From a 3 Series 320i xDrive to a 7 Series 750i xDrive, come explore our extensive inventory of new model BMW. Regardless of which model you prefer, this year's offerings showcase the finest elements of today's German engineering, paired with a class-leading wealth of tomorrow's technologies. So, while most people are familiar with the iconic 3 Series and 7 Series, let's take a look at some of this model year's offerings that are well deserving of your attention.
If you're interested in traditional sedan styling, the updated BMW 5 Series benefits from a number of tweaks, while remaining faithful to its well-established reputation. The 530i is powered by a turbocharged 2.0-liter four-cylinder paired to an eight-speed automatic transmission. Generating 248 horsepower and 258 lb-ft of torque, the rear-wheel drive sedan offers a combined 27 mpg. Sharing the same transmission, the 540i is powered by a twin-turbo 3.0-liter inline-six that delivers 335 hp, 332 lb-ft and a slightly more modest 23 mpg combined. These updated powertrain configurations, combined with a 137 pound decrease in total vehicle weight, reaffirm the 5 Series reputation as one of the most reliable performance sport sedans on the market. 
For those in the market for a crossover SUV, the BMW X3 leaves little behind in achieving a sporty family-friendly option with no shortage of available tech. While it may not enjoy the benefit of a redesign, this five-seat compact luxury crossover remains an easy favorite for many.  And with four different trim levels, comes three different powertrain configurations. The 2.0-liter turbocharged four-cylinder that belongs to the sDrive28i and xDrive28i delivers 240 hp and 260 lb-ft, with an estimated 24 mpg combined. The xDrive35i boasts a 3.0-liter turbocharged inline6 that serves up 300hp, a matching 300 lb-ft and 21 mpg combined. The third option is a diesel alternative, courtesy of the xDrive28d. With a 3.0-liter turbocharged four-cylinder diesel, you can appreciate an excellent 30 mpg combined, albeit with a more modest 180 hp and 280 lb-ft of torque. No matter which option you explore, the X3 has a lot to offer.
All in all, the 2017 model year serves up over 40 BMW models. Catering to a wide variety of tastes and lifestyles, we invite you to view our vast inventory online. Accompanying every vehicle is a comprehensive profile, allowing you to review every spec, feature and virtual inch. And if you have a specific BMW model in mind, but aren't able to find it in our current inventory, please let us know. Our focus lies in helping you to get behind the wheel of your perfect BMW.
Pre-Owned BMW Inventory
If you're considering a pre-owned BMW, rest assured that the benefits of our exacting standards don't diminish with time. With a diverse selection of pre-owned offerings on, there truly is a BMW for everyone.  
Take the X3 that we discussed among the new offerings for 2017. While it remains largely unchanged, it remains one of the most popular BMW offerings of recent years. 
We can endorse earlier model years of the 5-Series sedan with equal enthusiasm. While they may not benefit from this years refreshment, the 5-Series is widely embraced for its long-standing balance between sportiness and comfort. 
Looking back to 2014, we saw the introduction of the sporty 2-Series coupe and the slightly upsized 4-Series. Both celebrated examples of BMWs superior safety features, and overall reliability, they are well-worth exploring.
With the wealth of BMW offerings made available each (and every) year, our pre-owned inventory might be the perfect incentive to treat yourself to BMW's superior driving experience.
BMW Certified
We also invite you to explore our Certified Pre-Owned inventory. With BMW Certified, you gain the assurance that your pre-owned BMW meets the exacting standards required to earn the title of 'The Ultimate Driving Machine'.
Eligibility is extended to late-model BMWs (6 model years or less) with a minimum of 6,000 miles and maximum of 60,000 miles. Qualified vehicles must pass a rigorous multi-point inspection, performed by BMW factory-trained technicians. Any part of major operating system that does not meet our stringent factory-standards will be replaced or refurbished. And before any pre-owned vehicles are named BMW Certified, each undergoes a comprehensive road test, ensuring that they meet the meet every expectation of BMW. 
If the guarantee of a superior driving experience isn't enough, consider the benefits of an extended warranty, for 24 months or 50,000 miles (whichever comes first) activated after the expiration of the BMW's original 4-year / 50,000 mile warranty. 
Regardless of whether or not it is you driving, BMW Certified also provides peace of mind in the event of emergency. From towing to lock-out service, flat tire to dead battery, we have you covered. With the assurance of 24-roadside assistance (courtesy of BMW Assist) BMW Certified provides another way for you to enjoy…
The Ultimate BMW Experience
From our wealth of New, Certified and Pre-Owned inventory to our specials and finance options, BMW Cincinnati North is committed to setting its own visionary benchmark. Through a perfect union of inspired buying options, refined service and superior inventory we can help you experience 'Sheer Driving Pleasure' behind the wheel of your new BMW.